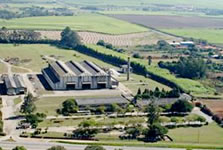 CONGER S.A. Equipment and Process, a traditional Brazilian equipment manufacturer situated in the area of Piracicaba City (State of São Paulo), supplies general equipment for Chemical, Petrochemical, Food and Alcohol industries. It was founded in 1962 with 100% Brazilian capital; its founders came from others industries of Piracicaba City, accumulating skill and experience in 50 years in this sector.

CONGER developed a lot on and after 70's, shared actively in the Proálcool (Brazilian Renewable Energy Program) reaching high performance and record level of manufacturing. CONGER has sharing in Brazilian and foreign Consortiums, getting licenses and patents; it created the CONGER QUALITY increasing its presence in the Chemical sector.

Today, it's 40 years old and has a solid position in Brazilian market of capital goods and it has a great reputation with its customers who represent the most of Brazilian and worldwide industries' names.

In the Alcohol sector, CONGER has satisfaction of taking part of the Brazilian Energy history because since beginning of Proálcool CONGER has been sharing in the process development and in the manufacturing of equipment with creative and highly effective solutions, reaching technological lead with reliable products.


---
[Summary]
[Localization]
[Quality]
[Technology]
[Products]
[Customers]
[Quality & Technical Information]
[Latest News]
[Get in Touch]